History of Theresa Presbyterian Church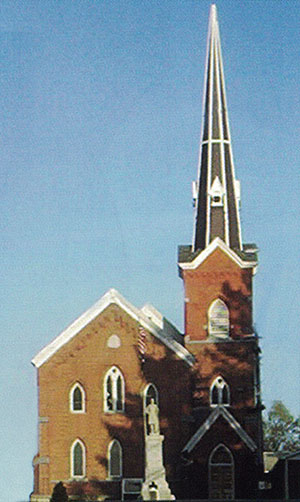 The Presbyterian Church of Theresa was organized on May 8, 1825 with nine charter members.
Private homes were the first places of worship. In 1838 the Presbyterian and Methodist congregations combined efforts and built a church that was used jointly until 1849. At that time, the Methodists built a church of their own.
The present building was dedicated April 20, 1880. In the early 1950's a need was felt for classroom space and other facilities. A building fund was started and on May 11, 1958 the Annex was dedicated during the morning worship service.
In 1970 the congregations of the Presbyterian, Methodist and Episcopal Churches voted to join a United Ministry. This became a reality in November 1970 when the Reverend DeWitt Loomis, an Episcopal priest, became the first minister to serve the United Ministry of Theresa. Under this arrangement the congregations worshipped together, rotating the services among the three churches. This period of shared ministry ended in June 1981. It was decided that all persons desiring to become members of one Church would join the Presbyterian congregation.
The addition, providing two offices, bathrooms and a meeting area was dedicated on November 8, 1992.
The Theresa Presbyterian Church has a long and interesting history. It has continued to grow and prosper through the years. One of the many things that characterize the church is the feeling of continuity of faith and purpose one experiences within its walls and among the people of its congregation.